This week on Legend of the Seeker; Queen Melosa shows up and tells Richard about his powerful magic before whisking him away to Hogwarts. Meanwhile Zedd's dead baby, Zedd's dead. And Cara and Kahlan spend forty minutes setting the celluloid ablaze even though they don't actually have time to make a fire.

Lets begin by stating the obvious, Kahlan is wearing Cara's colours. Perhaps the wardrobe people just wanted to give Kahlan a new hot outfit so she could stand toe-to-toe with the more revealing and sexualized uniform of Cara. Doesn't really matter how or why it came to be, what it does is work as a signifier of Kahlan and Cara's "union". Kahlan's new dress imitates the dark crimson of Cara's Mord'Sith leathers while at the same time being laced with the dark forest green that has become a trademark of Kahlan herself. Wearing someone's colour is a simple yet extremely symbolic way of pledging your allegiance and showing your support and love. This would be Kahlan's subtle way of showing her complete acceptance, and dare I say devotion to Cara.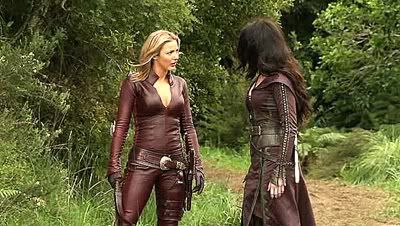 [Cara rubbing off on Kahlan]
But back to the actual plot. In short, Zedd is kidnapped by Denna, and Richard's got magical migraines, which can only be cured by Amazon Ninja Nuns and their Texas sized throwing stars (sometimes I really do love this show). One thing leads to another and Richard is forced to leave Kahlan to explore his wizardy skills (leaving Kahlan time to explore her sexuality). Cara who's sworn to protect Richard, and who clearly does not trust herself to be alone with the Confessor, insists she go with him. Kahlan however assures Richard that she and Cara will find Zedd on their own. Richard takes Kahlan's side and tells Cara to protect Kahlan as if she was him. Cara pauses for a beat before adding;
"I think it's good you're leaving. You'll only slow us down"
. At which a brief, but wide smile spreads across Kahlan's lips, once again looking a whole lot like true affection. Perhaps Cara's line is meant and does play as a joke, but there is an undeniable and subtextual truth to it. Richard does slow down the subtext, not by much, but three is after all a crowd.
We are then dealt one of those hitting-you-over-the head-with-symbolism kinda scenes where Kahlan is shown standing between two roads.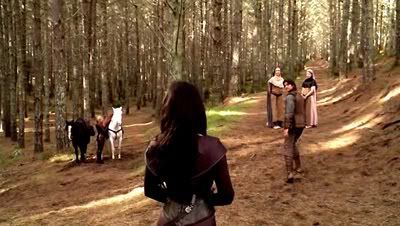 [

Not much of a choice is it?!

]
On the one side we have Richard walking away alongside the Ninja Nuns and on the other side we see Cara standing between two horses, one light as day, one dark as night (I am such a sucker for any yin/yang imagery). And while Cara gently strokes Kahlan's horse, Kahlan gives one final look at Richard before joining the Mord'Sith. Symbolism doesn't get much more explicit than that. Though I liked the nice touch of having Cara care for Kahlan's animal in there.
Then there's the fighting.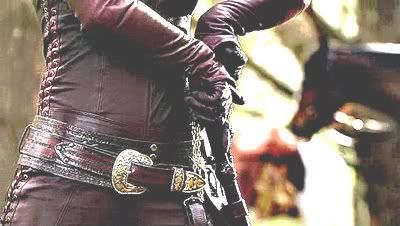 Every time I watch the scene I seem to zone out and all that is left once it is over is;
"oh so pretty"
. Which obviously is the honest truth, but not very descriptive. So here's me doing my best to move beyond the pretty; The fight in itself is beautifully choreographed and played out. It is smooth and it is powerful. But what makes it so brilliant and much more than just a fight scene is the complete awareness these two characters show each other. Wordlessly they stay in-sync and cover each other's backs. Watching them you don't see two different individuals fight, you see one unit fight. And that is for obvious reason incredibly satisfying from a subtextual point of view.
Ah, the subporn. What can I say, it happens. There is moaning. There is phallic objects. There is ambiguous dialogue. It is love in disguise. You need to
watch it
.
And on a slight sidenote, but I recently read a painfully tragic story called
Denial
, and the dialogue going along with the subporn reminded me a lot of that story. Denial is a story about a love that shouldn't be, about cheating and about passion. Without spoiling too much, the two main characters of that story tries to burn out the passion they have for each other. They give in and let it "burn" in the hopes that it will finally lose its power that way. Like I mentioned the dialogue to this scene is very similar to that reasoning, granted in this they are (supposed to be) talking about the wound on Kahlan's thigh, but it is ridiculously easy to read between and behind the current context. Lets just look at some of the things they say.
CARA:

I've made a promise to Richard..."It's" infected. We need to burn the "wound" closed.


KAHLAN:

We don't have time to "make a fire".


CARA:

We don't need "fire".


KAHLAN:

I've been struck by an "Agiel" before.


CARA:

Not like this.


KAHLAN:

Do it!

It really isn't much of a stretch (or well a little bit of one, but stretching life is what makes it so interesting) reading this scene as an attempt to ease and vent some of the frustration and attraction that's been building since
Marked
. When the
faun
cat's away, the mice will pain-play - old jungle saying.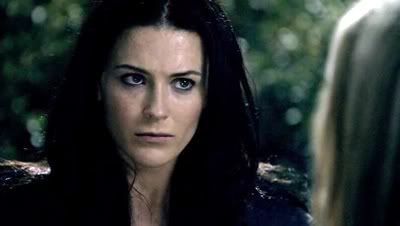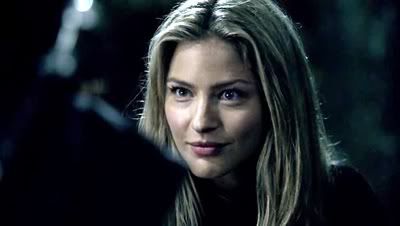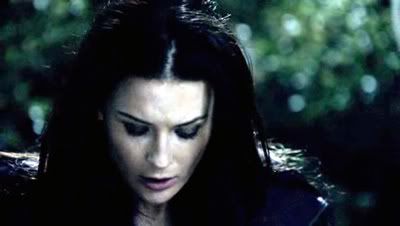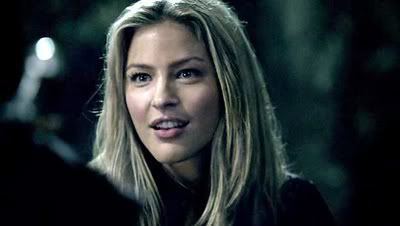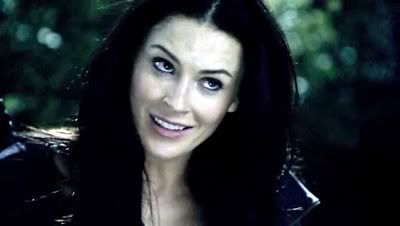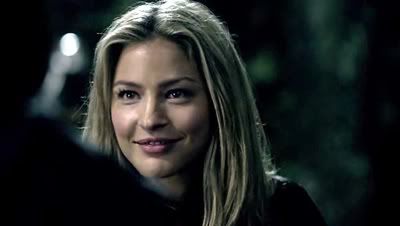 The meaning aside, the truly beautiful aspect of this scene is the eye-contact, it's what pushes it over the edge of just being a scene of plot-furthering to being exclusively subtextual porn. Even if the writers didn't know what they were doing when putting it on page, the director and actresses sure as hell knew exactly what they were doing putting it on screen. The look on Cara's face shows as much pleasure, if not more, than during
Broken
when she boinked random tavern dude. And even though the scene is centred around pain, when you see the kind of look they share and how they almost appear to be urging each other on through their eyes…
Okay, I should stop. But before we continue lets clear our mental palates of the lingering arousal. Turn your thoughts to Margaret Thatcher naked on a cold day and watch
this video
. Once again captain of your own bodily responses?
Then lets move on.
Now we've come to what might actually be my favourite scene of the episode. After a morning of travelling the blonde tells Kahlan, who's still clearly in pain, to rest. The Confessor refuses to admit to exactly how much pain she is in and in turn Cara quickly flexes and tries a different approach. She tells Kahlan that she herself needs to rest. With an amused look on her face Kahlan calls the bluff.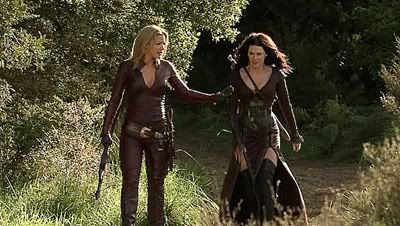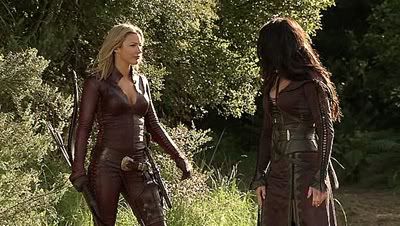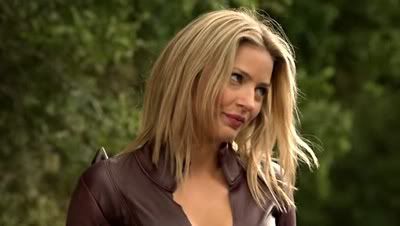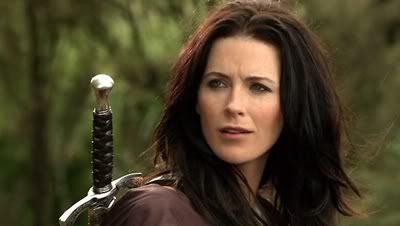 The scene continues as Kahlan is distracted by a peculiar cloud that raises her suspicions. She shares her hope with Cara and tells the blonde that she believes Zedd to be alive and what they are seeing is a tracer-cloud. Cara disagrees and the bantering turns into a small argument. An argument that I can't really describe why or how, but does indeed remind me of a lover's quarrel. I think it might be the slight disappointment in their interactions though. They feel almost disappointed in having such differing views, a disappointment in not being able to share a world view. A disappointment in the gap between them. They're not arguing because they are angry at each other, they're arguing because they want to protect each other, in their own ways (i.e. Cara wanting to teach Kahlan emotional strength and Kahlan needing Cara to believe in hope).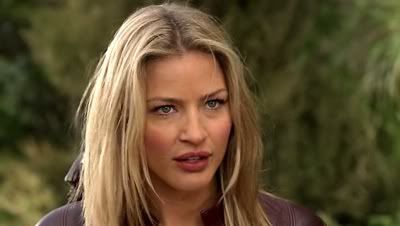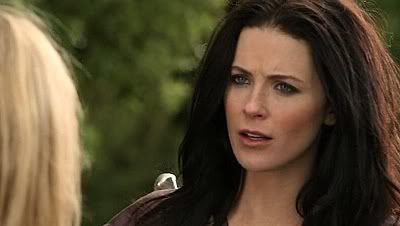 The entire scene is one
smörgåsbord
of deliciously familiar banter between the two. They argue and you can see frustration in both their eyes and body language, yet there is something else there. It is frustration tempered with affection. Even though they drive each other to the brink and have problems communicating there is no ill-will or anger in their interactions. Merely a frustration born out of a need to understand and care for each other. The way Cara also turned the tables in the beginning of the scene and claimed she was the one in need of a rest was another one of those moments that show how much they do care. Also interesting to see Cara, the ultimate badass with an extremely warped sense of emotions and fear of weaknesses, fake vulnerability just to save Kahlan from more pain.
Plus the dialogue from their argument should also be noted, because it's things like this that are the fundamental building blocks of subtext; i.e.
"you're not seeing what's right in front of you"
and
"you need to be strong enough to accept the truth"
.
The reason I love the scene so much is because of their relaxed yet vibrant and vibrating chemistry. They feel more like old lovers than new friends. And that there makes very little sense in relation to the story, but is damn beautiful nevertheless.
Damn beautiful.
ps. What's with the surplus of sisterhoods in this verse? And when will we get to see the Brotherhood of the Almighty Billy Goat?